Chairman's Challenge
How it Works
The Chairman's Challenge is the monthly competition. A topic or project is laid down by the chairman each month and members are invited to submit a piece of their work answering the brief.
This competition is judged by the membership. On signing in to a monthly meeting, each member is issued with a token. During the mid-meeting break, members are asked to place their token next to the piece of work they judge to be the best. Members take account of how well the piece answers the challenge, workmanship, design flair, creativity and the like. In this way beginners and the more experienced are on a "level playing field".

Points are awarded for first, second and third places each month. At the January meeting the member having scored most points in the previous year will be named winner and given a small prize. The competition year begins again with the February meeting.

List of Chairman's Challenges for the coming months
July 2020                Pot pourri bowl

August 2020           Hollow form
September 2020     Natural edge item
October 2020          Off centre turning
November 2020      Piece inspired by nature
December 2020      Christmas decorartion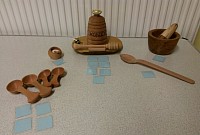 March 2020 Competition Entries
11 March 2020
Item for the Kitchen
Another win for Pauline Cassidy with the honey pot, honey dipper and tray.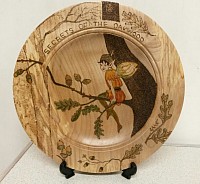 Platter by Pauline Cassidy
February 2020
Platter with decorated rim
Thank you to all who entered. Several great pieces of work but the winner had to be the one pictured here.
This great piece made by Pauline Cassidy is not only a good example of a platter but is also the very definition of "decorated".
This certainly sets the bar pretty high for the start of the 2020 Chairman's Challenge.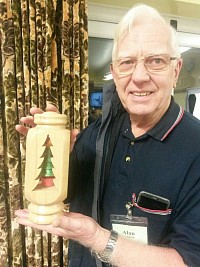 Christmas Decoration by Alan Edwards
December 2019
A Christmas Decoration
The one and only entry from Alan Edwards.
Well done Alan for entering and well done for winning!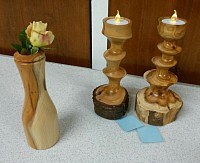 13th November 2019
Bud or open-neck vase
Not entirely sure what happened here but in the competition to produce a bud or open neck vase it appears to be the tall tea light holders that won!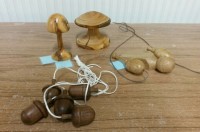 Competition September 2019
11 September 2019
Mushroom or Acorn
The taller mushroom towards the back of the photograph won most votes.
This piece was made by Peter Hollis.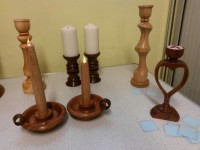 July 2019 competition
10 July 2019
Candlestick or holder
A very varied selection of entries.
Thanks to all who took part. Sorry the picture doesn't capture all the work entered.
The piece judged the best by the system of member voting was produced by Alan Edwards.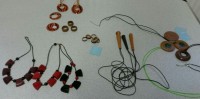 Competition June 2019
12 June 2019
A piece of jewellery
Thanks again to all who put some work in for the competition and thanks to those who voted.
This months winner is Alan Edwards.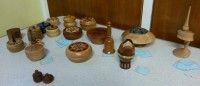 Competition May 2019
8 May 2019
Decorated Lidded Box.
Thanks to all who put an entry into the competition.